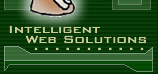 Jason J. Jones Web Development, Inc.

Serving the Greater Cleveland Area

Providing Intelligent Web Solutions to Small Businesses
What services can JJJ Web Development provide as a subcontractor?
Simply put, we can satisfy all your web development needs. We specialize in server-side scripting using Microsoft technologies (ASP, SQL Server, VBScript, JScript, Windows 2000, IIS). Of course, we can achieve the same quality results with non-Microsoft solutions (JSP, Interbase, Java, Linux, Apache) if required. Our extensive experience includes client-side scripting and work with third-party packages as well. A mastery of HTML and web development techniques is a given.
Who could make use of these services?
A variety of businesses are well-suited to profit from offering JJJ Web Development's services to their clients. A few examples include:
a web design firm looking to add more interactivity to their sites
a marketing firm looking to offer their clients opportunites to market their products online
an ISP looking to provide the software services their clients' are clamoring for
any company that provides information technology solutions to others
Why would I want to use a subcontractor?
At JJJ Web Development we partner with you to fill your clients' Web needs. We have the technology experience you need. Obtaining this experience by using JJJ Web Development as a subcontractor affords you these unique benefits:
You pay only for the work you need done. Unlike an employee, when we are not being put to use, we cost you nothing.
You avoid the hassle and extra cost of employees. We take care of our own benefits, so you never need to provide them. You can add capacity without ever going through the hassle or cost of adding a new employee.
You control your profit. We give you our rates, and you are free to pass them on to your client as you see fit.
What experience does JJJ Web Development have?
We're proud of our accomplishments. Please refer to the resume of Jason J. Jones and view our portfolio. See also "Who is Jason J. Jones Web Development" for more background information on the company.
How can we get started partnering with JJJ Web Development?
We'd like to discuss the opportunities we can share. Send an email to jason@jjjwebdevelopment.com or contact us by phone or mail. If you do not reach us directly, we will get back in touch with you within 24 hours, guaranteed.