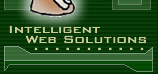 Jason J. Jones Web Development, Inc.

Serving the Greater Cleveland Area

Providing Intelligent Web Solutions to Small Businesses
Intelligent Web Solutions for
Small Businesses
Is your company looking to improve its marketing? Are you looking for ways to find new customers? Would you like to sell your products online?

If your answer to any of these questions is "YES!" Jason J. Jones Web Development can help you. When you partner with JJJ, we will custom tailor a web site to meet your specific needs. Partnering with JJJ puts experienced, intelligent Web professionals at your disposal.

If you know what your company needs in a website, we can deliver it. Our experience with the Microsoft Web technologies means we can deliver anything you ask for online. We have worked with and will be happy to develop anything from a simple, static HTML site to an interactive, databased e-commerce system.

HTML? Database? Don't be alarmed. If you don't know what your company needs in a website, JJJ has even more to offer you. We can guide you through the process of developing your web presence. We'll help you examine the potential business benefits and opportunities and then develop the solutions to take advantage of them.

Contact us to discuss an Intelligent Web Solution for your needs!

Or to really get moving, schedule a free consultation with JJJ Web.