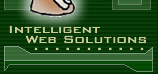 Jason J. Jones Web Development, Inc.

Serving the Greater Cleveland Area

Providing Intelligent Web Solutions to Small Businesses
Custom Web Development for $50/hour
As an independent consulting firm, we make our expertise and experience available to you at a rate of $50 for every hour we spend on your project. We can work with you on the development of your ideas, through design of the project and through development, launch and testing, all at this same low rate.
We look forward to working with you to bring your vision to the Web. Contact us today to discuss an Intelligent Web Solution for you!
Web Hosting Starting at $25/month
For a web site to be available to anyone on the Web, it must be hosted on a server. A server is a computer connected to the Internet where your Web page is stored. Anyone that wishes to view your Web page must request it from this server. Web servers are expensive to buy and maintain, so many companies elect to outsource this service.

JJJ Web Developement will host your site for a low monthly rate. Rates start at $25/month, but vary depending on your site's needs (the amount of traffic it receives, the amount of interactivity within the site, and other factors).

Contact us for an appraisal of your site.


---
For a more detailed breakdown of Jason J. Jones Web Development, Inc.'s services and fees, see the "Our Services" section of this site.