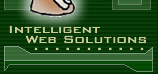 Jason J. Jones Web Development, Inc.

Serving the Greater Cleveland Area

Providing Intelligent Web Solutions to Small Businesses
Email Services
If your site is hosted with JJJ Web Development, we offer email services for an additional $10 per month. For this $10, you may set up an unlimited number of user mailboxes. (Many other hosting services charge a set amount per month plus $5 per mailbox!) You will also be able to use:
AutoResponders. Set up addresses to send an automatic response whenever anyone sends a message to that mailbox
A "catch all" account that receives all mail sent to your domain that is not sent to a specific mailbox. This means you won't lose messages even if the user sending them mistypes your email address.
List Aliases. You can have one address (example everyone@yourcompany.com) that is an alias for several mailboxes, so that a message sent to that address is delivered to multiple people.
Rate: $10/month
Return to Services