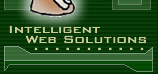 Jason J. Jones Web Development, Inc.

Serving the Greater Cleveland Area

Providing Intelligent Web Solutions to Small Businesses
Web Site Promotion & Search Engine Optimization
The best Web site won't help your business grow if no one can find it. JJJ Web Development knows how to design sites that catch the eye of the search engines. We guide you through the process of using search engine placements, online advertising, and real-world promotion to ensure your marketing is cost-effective.
At our normal rate of $50/hour JJJ Web Development will plan and execute a professional marketing campaign to get your Web site noticed.
Rate: $50/hour
See also:
Keyword Dominance
Who is Jason J. Jones Web Development?

Return to Services